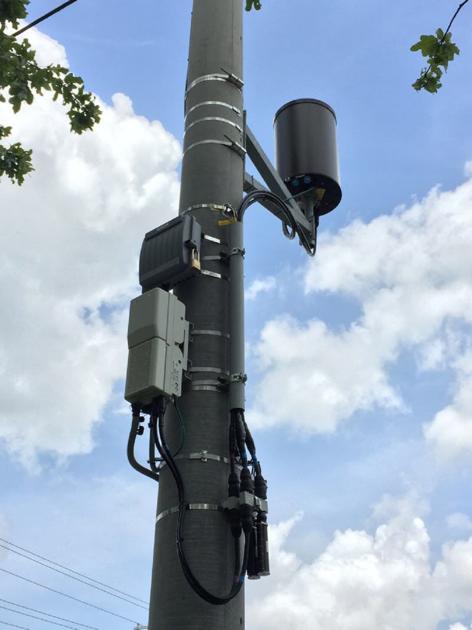 Metro Council Sets $ 250 Annual Rate for Small Cell Equipment Placed on Public Property | New
The East Baton Rouge Parish Metro Council on Wednesday set an annual rate of $ 250 for small cell equipment placed within city and parish rights-of-way.
The equipment provides signals to limited and targeted areas to amplify signals where demand is high. Parish city staff estimated that companies like AT&T – which lack space to build new towers – may need to install hundreds of small cell sites to provide or improve service.
On Wednesday, the Metro Council approved the tariff for such equipment with the only but vigorous opposition of Matt Watson.
"I don't like the $ 250 a year. I think we're giving the house away," Watson said, noting other cities that charge higher rates.
A fight is brewing over how much companies should pay to use the public domain in Baton Rouge …
Ordinance co-sponsor Buddy Amoroso disagreed. Cities like Houston may have charged a few thousand dollars in the past because carriers looked to install more infrastructure to increase capacity ahead of this year's Super Bowl, he said. And places like Dallas may charge higher rates because they are several times the size of Baton Rouge, he argued.
These Texas municipalities no longer charge these rates since the Texas Legislature passed a law a few months ago setting annual statewide rates of around $ 250, which Dallas says has cost to state municipalities approximately $ 800 million in annual revenue. The Baton Rouge ordinance is based on the state of Texas model.
The annual fee of $ 250 is great for AT&T, but for the city and the public, it's an "absolute abomination … He likened the Baton Rouge order – written at AT & T's request – to letting his daughter off. 6 year olds choose how much dessert they should be allowed to have.
But if the parish city does not offer a competitive rate, companies may seek to place their equipment on private property, depriving Baton Rouge of a potential revenue stream, said Order co-sponsor LaMont Cole. .
And Baton Rouge needs to increase its signal capacity if it is to attract events like concerts and provide adequate coverage at sporting events, he said.
"The little cell puts us on the right track to do this," Cole said.
In addition to the annual fee, businesses must pay a one-time fee of $ 1,000 for each device installed in a public right-of-way.
Councilor Dwight Hudson congratulated Cole and Amoroso on the deal. It is wrong to view the public right of way as a cash cow, Hudson said, adding that the higher costs to telecommunications companies could be passed on to consumers, which would mean higher bills for residents of Baton. Red.
While Watson objected to the rate – and the lack of a built-in fee hike to keep pace with inflation – he also raised other issues. For one, the order presented Wednesday does not address liability issues if the equipment injures someone or damages property.
Asked by Watson and City Councilor Chauna Banks, ward city staff said their insurance expert and finance department had not been asked to revise the ordinance, and the information services department does not have personnel with specific expertise regarding the equipment.
However, none of these arguments swayed the rest of the board. Members said they were eager to move on to installing equipment to provide services to businesses and residents – both their existing phones, smartwatches and other internet-connected equipment as well as the technology of the future. , like driverless cars.
"We are ready to start in the parish of East Baton Rouge," said David Aubrey, director of external affairs for AT&T Louisiana.
Follow Steve Hardy on Twitter, @SteveRHardy.