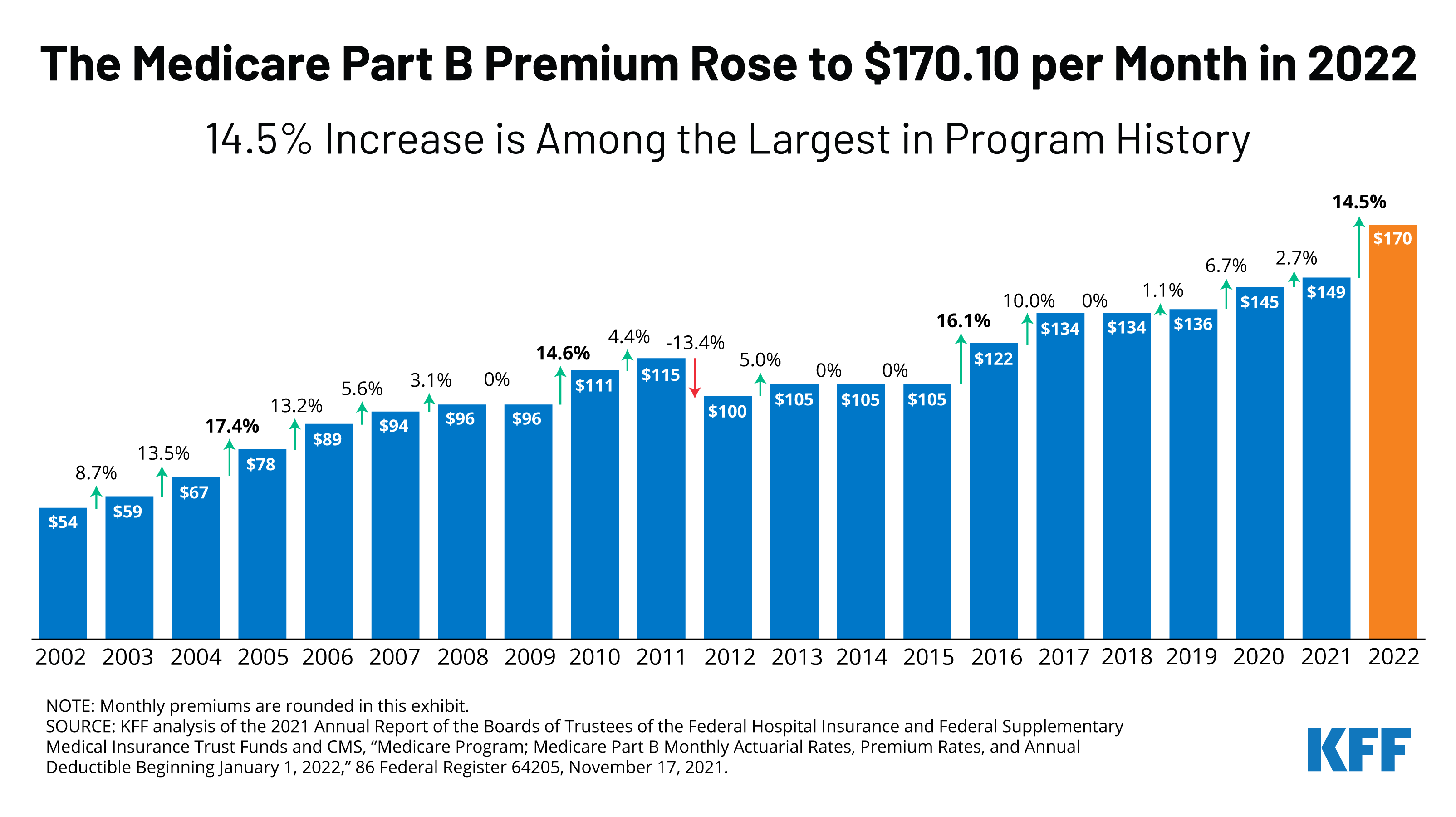 Part B monthly premiums and annual percentage increases
In November 2021, CMS announced that the monthly Medicare Part B premium would increase from $148.50 in 2021 to $170.10 in 2022, an increase of 14.5% ($21.60). This is the largest increase in dollars since the program began, although premiums have increased faster by percentage on three other occasions in the past 20 years – 2016 (16.1%), 2010 (14, 6%) and 2005 (17.4%).
CMS explained that the increase for 2022 was partly due to potential costs associated with the new Alzheimer's drug, Aduhelm (aducanumab), made by Biogen, which had an initial annual price of $56,000. The Part B premium increase was to allow for a "high cost scenario" of Aduhelm coverage based on usage assumptions months before the planned announcement of a National Coverage Determination (NCD).
A NCD proposed was announced on Tuesday, January 11, which will be followed by a 30-day comment period and a final decision to be announced by April 11, 2022. The NCD is proposing to cover Aduhelm and other anti-amyloid monoclonal antibodies similar FDA-approved under Coverage with Development of Evidence (CED) in approved randomized controlled trials that meet particular coverage criteria. This is because these drugs will not be covered for people on Medicare unless they are part of a qualifying clinical trial.
On Jan. 10, HHS Secretary Xavier Becerra instructed CMS to reevaluate the 2022 Medicare B premium amount to reflect a 50% price reduction to Aduhelm announced by Biogen in late December 2021. Becerra to reassess the Part B bounty after it was announced was highly unusual.