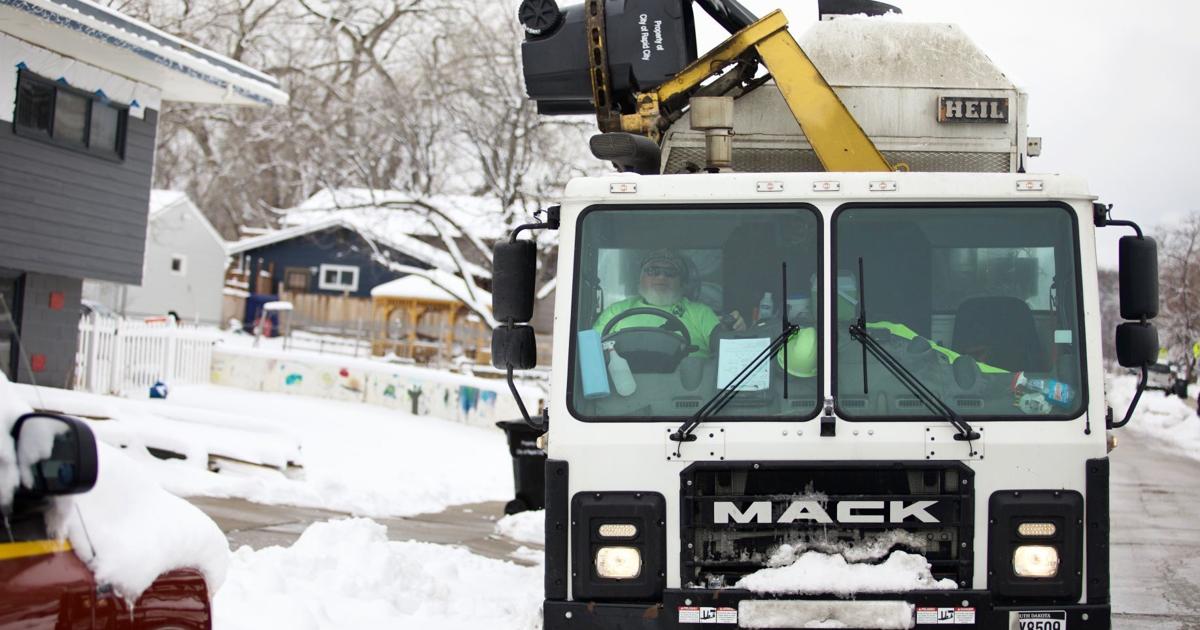 Rapid City wants to institute annual rate increases for garbage collection | Local
Residents of Rapid City could see annual increases of $ 2 for garbage collection if city council approves a plan presented to them by the public works department.
Rapid City Council heard the resolution to change the fees that would come into effect on August 1 during their working session on Wednesday. The resolution comes after a May 12 presentation on the Solid Waste Master Plan.
The current curbside collection charge for a 65 gallon container is $ 16.91, while a 95 gallon container is $ 18.76. If the resolution is approved, the rates would increase to $ 19.83 and $ 21.68, respectively. For those with 35-gallon containers, the rate would drop from $ 14.99 to $ 17.99, and a 300-gallon container rate would drop from $ 46.84 to $ 49.84.
After 2021, the price for each container would increase by $ 2 each year.
Landfill rates would also increase for mixed waste, construction debris, chippings and sump screens, asphalt / wood shingles and ash, all per tonne. Mixed waste would drop from $ 59 to $ 61, then drop to $ 63 in 2023. All would drop from $ 59 per tonne to $ 61 on August 1, then to $ 63 in 2023.
Stacey Titus, Operations Management Engineer at Public Works, also presented the financial and pricing policies of the solid waste management company. The policies would cover reserve funds, debt issuance and management, operating budget balancing, capital policies and procedures, and rate and charge setting.
Senior Civil Engineer Luke Rodig of Burns and McDonnell recommended implementing a commercial garden waste dump fee, interrupting the co-composting process, and creating a centralized and staffed remote depot site to garden waste. These recommendations are not in the policies or the resolution, but may be presented to the board in the future.
One of the recommendations was to remove the 35 gallon curbside recycling container.
Council member Bill Evans said he believed it was premature to discuss the rate structure since there was no discussion of its ramifications.
"We have to talk about it because there are some things that seem a little bit harmless and are not going to cause any problems," he said. "I tell you every little old lady that's going to have that 35 gallon trash can taken out and forced to hold a big one up, we're going to get a billion phone calls to members of this council about it."
Titus said the removal of the 35-gallon container was due to safety concerns. He said the garbage collection trucks that grab the containers are designed for 65 and 90 gallon containers.
He said they were losing containers in the back of the truck, so people have to get in and collect them.
Council member Jason Salamun said the two drop-off points on the east and west sides of the city are beneficial because of the way the city is laid out and convenient for residents. He wondered if going to a central location would do more harm than good.
Titus said they were concerned about contamination and abuse at both sites. He said if the city went down to one, they might consider going back to two, but the central location would be fenced in and have a city employee monitor the location.
Council members Ritchie Nordstrom and Greg Strommen also expressed some concerns about future items. Board member Darla Drew said she liked the centralized location and the rate hike was not out of place.
The council also discussed the medical cannabis ordinance, which it will vote on Monday evening. The order prevents medical cannabis companies from operating in Rapid City until they receive a state license. State lawmakers have until Oct. 29 to develop regulations.
If approved on Monday, the ordinance would have its second reading on June 21 and would come into effect once the initiated measure 26, which legalized the medical use of cannabis, came into effect on July 1.
Council member Pat Jones said he was concerned about passing an ordinance before the state decides on the rules.
"We have to be very careful about how we institute it," he said. "It has to be done the right way. "
Council member Bill Evans has expressed interest in the city opening its own dispensary to have another source of income.
Deputy city attorney Carla Cushman said there had been discussions among city staff, although they were not sure it was appropriate under state law.
"It's another way to get money without raising property taxes," Evans said. "It might as well be we get it and it should be a highly regulated substance. If we regulate it, maybe we should profit from it too."
Rapid City Council will consider the items of the working session at its Monday meeting at 6.30 p.m. at City Hall.